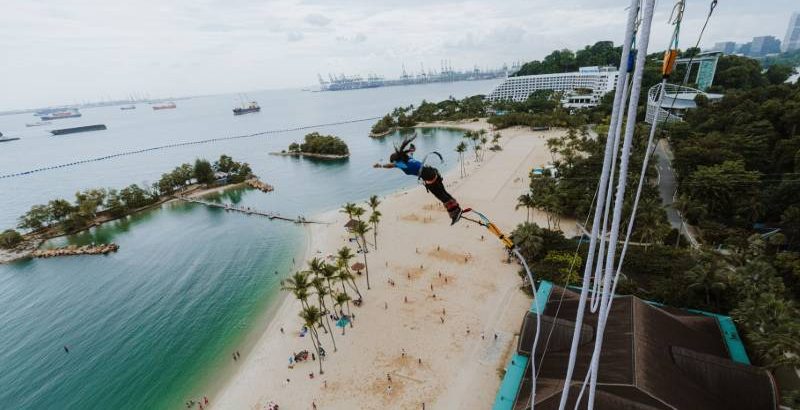 AJ Hackett Sentosa: Must Add Activities in Singapore Bucket List
Singapore! An island so tiny yet thriving has seamless things to explore. The beautiful buildings, astounding architecture, stunning art galleries, world-class restaurants, cosy nature, rip-roaring adventures, and the best hotels in Singapore, every corner will capture your attention with something fascinating to say.
With so many things at hand to enjoy, one of the top attractions in Singapore for adrenaline junkies, AJ Hackett Sentosa, boasts not only thrilling aerial experiences but also a striking backdrop of nature. It is perfect for a family day out or friends forever trip.
AJ Hackett Sentosa Singapore – An Overview
AJ Hackett Sentosa is Singapore's most popular attraction. Located on Sentosa, it is one of the best things to do on Sentosa Island. It is not only the first and only Bungy Jumping site in Singapore but is also the only structure featuring four thrilling ariel activities all at one site in Asia. AJ Hackett was originally a New Zealand builder who was inspired by the harvest rituals of Vanuatu's Pentecost Islanders to create this amusing structure. This attraction became a big hit and attracted thousands of locals and tourists to experience this new adventure. High-end security measures, first-rate services and facilities, and breathtaking scenery are also major draws for international visitors.
Currently, you can experience only three AJ Hackett Sentosa activities due to the closure of Vertical Skywalk for renovation in 2018. Nonetheless, the other activities will satisfy every adventure seeker to the core. If you are brave enough, jump 47 metres with Bungy into the air and land headlong at a speed you never knew! For those who can't take the Bungy, head to Skybridge or Giant Swing, and for visitors looking for a lazy day out, enjoy wandering around nature or have the best meal at one of the best restaurants.
Why visit AJ Hackett Sentosa?
When you are bored and looking for extreme adventures, AJ Hackett Sentosa will provide them for you with its world-class facilities.
If you are looking for an adrenaline-pumping activity to experience with your friends or loved ones, Giant Swing will meet your needs.
Bungy jumping from a height of 47 metres is something you want to store in the box of your memories in your lifetime.
The Skybridge will give you breathtaking views of Singapore's skyline. You can enjoy a peaceful walk with your family or friends while munching some snacks.
AJ Hackett Sentosa is an ariel-themed attraction in Singapore, brought out, especially for adventure lovers around the world.
Attractions that you don't want to miss at AJ Hackett Sentosa
AJ Hackett Sentosa Giant Swing
The Giant Swing at AJ Hackett Sentosa features one of the only dual swings in the world. It provides a one-of-a-kind adventurous opportunity to enjoy the activity with your family or friends like never before! You are thrown headfirst 40 metres above sea level. The rapid speed of the Giant Swing tests your boldness and reflexes as you hang from side to side with your friends. At a speed of 120 kilometres per hour, you will surely feel the adrenaline pumping through you.
AJ Hackett Sentosa Skybridge
If you are looking to do something fun with your entire family, Skybridge is for you. The AJ Hackett Sentosa Skybridge crosses two separate skyscrapers at 47 metres above sea level with an open-air walkway with glass flooring. Yes! You read it right. It is an exposed glass floor walkway secure enough to cross the bridge without the need for safety equipment. You can easily gaze upon the beautiful skyline of Singapore from here. The see-through sections on the bridge make a good challenge to enjoy a thrilling yet safe adventure with your family and friends.
AJ Hackett Sentosa Bungy Jumping
Bungy jumping is the most popular activity at AJ Hackett Sentosa. It allows you to dive from a height of 47 metres while wearing a guarded and guided harness. You will have a trained and professional staff on hand to guide you, making it the safest and most exciting way to participate in AJ Hackett Sentosa bungee jumping. The best part, it also gives you a chance to experience it with your companion to box some of the best moments of your life. All the safety measures and guidance will be provided. So, enjoy with no worries!
AJ's Bar and Beach Dining
After all the rip-roaring activities, you will need something to fuel your system. AJ's Bar and Beach Dining serves the best dishes at AJ Hackett Sentosa. You can even order a multi-course meal, bite-sized snacks, and refreshing beverages. Make sure to try the Burger Duo and Smoked Norwegian Salmon, which are the specialities of AJ's Bar and Beach Dining.
How to reach AJ Hackett Sentosa?
By Cable Car
The best and the most exiting way to reach Sentosa from Singapore mainland is by taking a cable car.
By MRT
The closest MRT is the North-East line MRT train to Harbourfront Station. Get on the Sentosa Express from the 3rd floor of Vivo City to Beach Station. From the third stop take a free tram going to Siloso beach.
By taxi
If you are accessing the car, drive across the Sentosa gantry and follow the instructions to Siloso Point.
Timings:
Monday-Thursday: 1:00 PM – 7:00 PM
Friday: 1:00 PM -8:00 PM
Saturday & Sunday: 12:00 PM -8:00 PM
Tips for the trip
Visitors of all ages can access Skybridge.
Age and weight restrictions apply to the Bungy Jump and Giant Swing.
Pregnant women are not permitted to use the giant swing or Bungy jumping.
Make sure to book in advance to avoid disappointment. Have a safe and happy trip!