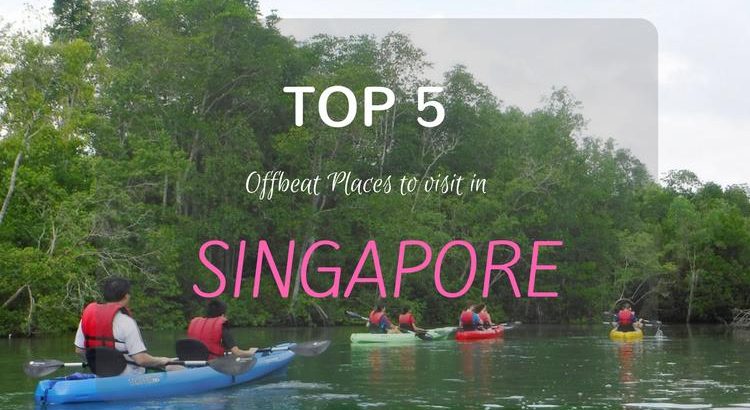 Top 5 Offbeat Places to visit in Singapore in your 20s
It is in your 20s where you can take decisions that can add experience into your life. One of such decisions is to travel as much as possible and venture into the world. Travel is a great way to mingle with people from different parts of the world. Singapore is an amalgamation of Asian cultures where you can find out how multiethnic people harmoniously live together. For youngsters, Singapore is a nation that exceeded expectation in innovative levels. There is so much to see and do here that every experience is worthwhile. But Singapore is far more than what it showcases. Yes, of course, you can't miss the Gardens by the Bays, The Singapore Flyer, Jurong Bird Park Singapore, Resort World Sentosa, Little India and Chinatown. And who can stay away from the Singapore nightlife and shopping at Orchard Road?  But if you are looking for something other than these usually chosen Singapore attractions, then you are in for a surprise, as there are plenty of offbeat places to visit that can turn your Singapore holiday into an unforgettably unique experience. We bring to you top 5 off-beaten experiences you should enjoy on your Singapore trip.
1.Visit the Live Turtle and Tortoise Museum
Singapore has some amazing surprises in store for every genre of visitors. There are ample spaces in Singapore and its surroundings for nature lovers. But for animal lovers, there is more than just Jurong Bird Park, Night Safaris and massive Oceanariums. Head to the Live Turtle and Tortoise Museum located in Chinese Garden in Singapore and get a chance to have a close encounter with these gentle exotic species, even pet them and feed them. The museum is a solely dedicated sanctuary set for the well being of more than 200 turtles and tortoise, some of which are rare species that you can only view here in Singapore.  You will be left amazed at the sight of such a marvelous collection of turtles and tortoises in different sizes and colors.
2.Feel on top of Singapore with unique high-altitude dining experiences.
Nothing seems impossible in Singapore. If you wish to have an extraordinary night out in Singapore, then take one of the high altitude dining experiences with spectacular aerial views of Singapore. Either you can opt for Singapore Cable Car fine dining experience or lounge with a cocktail and dinner at some of Singapore's prominent Roof Top restaurants and bars. A dinner on Singapore Cable Car is an outstanding experience where you will slowly ascend above the Singapore city on a private gondola. Start your journey by twilight, so you can witness a gorgeous sunset while soaring above the Singapore cityscape. Enjoy a delectable 4 course Singapore gourmet dinner while gliding through the sky, relishing the bird's eye view of the shimmering city below. A luscious dinner with an innovative concept is one Singapore experience you will not forget. Among Singapore's premiere alfresco dining options are the SuperTree by Indochine, Ce La Vi on top of Marina Bay Sands and Equinox at Swissotel that offer astounding views of the sprawling city. However, the best experience of high altitude fine dining is at the Stellar at 1-Altitude which boasts to be the world's tallest dining experience. It also happens to be one of Singapore's best alfresco bars that offer spectacular 360-degree panoramas of the city along with stunning nightlife and fine dining.
3.Meander through the Mandai Mangroves on a kayaking experience.
Even though Singapore has been in the forefront when it comes to rapid development and urbanization, it has managed to strike a balance between nature and modern development. Located on the northern edge of Singapore are country's surviving sections of mangroves which is also a hidden gem for nature lovers visiting Singapore.  Venture out into the Mandai mangroves in a kayaking expedition where you can float past native Singapore villages and explore a haven filled with rich biodiversity, amazing wilderness and wildlife amid nature's solace. An excursion to Mandai mangroves is one of the unique things to do in Singapore and a great way to appreciate nature and take a break from the Singapore's extravagant city life.
4.Explore the secluded islands of Singapore
Singapore is an island nation, but in case you haven't noticed, Singapore is actually more than just one island. The country is made up of a collection of 63 islands of which Pulau Ujong is considered the mainland of Singapore. Most of the islands are considered unsuitable for inhabitants but some nearby isles are the epitome of tranquil nature and serve as an ideal escape for visitors and locals from Singapore city life.  Among the islands, St. John's Island, Lazarus Island, Kusu Island and Pulau Ubin are famous places to visit in Singapore as nature escapes preferred by locals and visitors alike. Spend a day here away from the buzzing Singapore city and revel in nature's pristine beauty of lush forests, beaches, and azure waters. Moreover, the islands are just a short ferry ride away from Singapore Mainland.
5.Gear up for snorkeling adventures at the Sister Islands

Two beautiful islands set south of Singapore Mainland, the Sister Islands are surrounded with an underwater realm teeming with a diverse coral and aquatic life. With unparalleled views of turquoise waters and a rich biodiversity, the islands are famous as snorkeling destinations and have a section of it recognized as Singapore's first Marine Park. Just a ferry ride away from Marina South Pier in Singapore Mainland, adventure junkies can look forward to a pleasant day of snorkeling in the pristine waters rich in hard and soft corals, along with an excellent collection of marine life such as starfishes, crabs, giant clams, seahorses, and octopus.
Singapore is a mix of exhilarating experiences, some are innovative, some unusual, but whatever Singapore points of interest you choose is sure to leave you spellbound about the country's uniqueness. There are plenty of answers to the question "What to do in Singapore"? After you have toured the iconic landmarks and popular Singapore tourist attractions, take some time to explore these listed spots to appreciate the distinctive element of the country. Adding these off-beaten destinations to your Singapore holiday will guarantee you a memorable vacation. So when you plan your next Singapore trip, let us be a part of it and help you out regarding Singapore visa in Dubai and get you the best holiday ideas for a unique Singapore holiday.
---
---