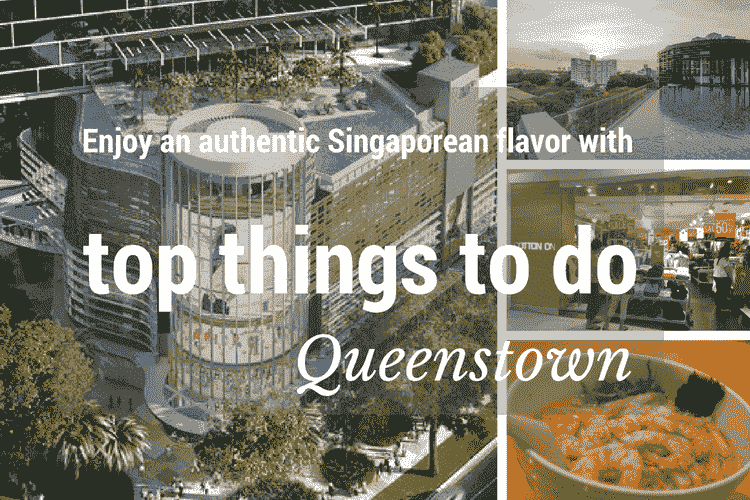 Enjoy an authentic Singaporean flavor with top things to do in Queenstown
In 1953, Queenstown was named after Queen Elizabeth II to mark here coronation ceremony. This was the first residential area to be undertaken by the Singapore government for initiating Singapore's public houses initiatives. Since then, there have developments of several modern amenities and high-tech facilities located very close from Queenstown, which has made it a hot spot location for accommodation in Singapore. Commonly referred as the first satellite town in Singapore. Some of the modern amenities include malls, entertainment facilities, food markets, supermarkets, commercial establishments, and sports complexes. Queenstown is also very popular for its high-quality educational system. You can also enjoy a lush green atmosphere at the various parks and playgrounds here. We have made a list of things to do in Queenstown which would make your trip to Singapore delightful and give you a bag full of cherished memories.
1. Rejuvenate your senses by taking a dip in the infinity pool at Park Hotel Alexandra
Water is indeed a great stress buster and when the place is pretty much undiscovered, it is more fun and relaxing. Enjoy a wonderful time as you visit the infinity pool at Park Hotel Alexandra and rejuvenate and refresh your senses by taking a dip in the pool. A perfect way to beat the heat and move beyond the busy lives of the city. You can also pamper yourself at the poolside bar. Visit the place post evenings to enjoy a romantic atmosphere.
2. Visit the lush green Alexandra Canal Linear Park
Well, Singapore has more than a dozen lush green parks to its portfolio, but a less discovered park not only gives you the best access to this fresh environment, it also gives you private space you require while you browse through this green environment with your partner. A romantic midnight walk under moonlight is something you can look forward to with your significant other. The Alexandra Canal Linear Park stretches a good 1.4 kilometers from Queenstown MRT station till Tanglin road. This park is a hot favorite among skaters, skateboarders, cyclists, and joggers. The spectacular themed zones is a top attraction, especially among tourists. One of the top Queenstown tourist's attractions which are home to all ages and groups of people. This is also home to the Alexandra Arch and the beautiful HortPark that is a melting point for friends, lovers, and botanists.
---
---
3. Shop for sportswear @50% off all through the year
Sounds crazy, right? Well, a store on Level 1 of the Queensway shopping center near the McDonald's entrance offers just that. You will find it really hard to resist shopping here. Don't be surprised if you lose your self-control and discipline as the variety available is simply superb. You will not obviously find the latest design and trending accessories, but 50% discount is something which you will not be able to get it out of your head.
4. Savor your taste buds with the original and tasty Janggut Laksa
The Janggut Laksa has a rich flavor, something very similar to its history. The iconic Marine Parade Laksha with origins at the East Coast Road was renamed as the Janggut Laksa once it was reopened in the Queensway Shopping mall. We recommend you close your eyes and savor the original taste of these noodles as you are slurping them down your throat. One of the authentic Singapore food dishes during Singapore holidays which you should never miss out. You will definitely fall in love with this mouth-watering dish. For a more adventurous taste, check out the new red bean and chocolate variants.
---
---
5. Explore the Japanese flavor at Sakuraya Fish Mart
You can probably get the best sashimi store with a huge variety on display at the Sakuraya Fish Market. It is literally heaven for all sashimi and fish lovers. A huge hit for someone who loves seafood. You can get a freshly sliced piece cut by the chefs and be served on the spot while you savor this authentic Japanese experience. The price and quality of the dish are simply unmatched, totally worth every penny you spent. There are other popular Japanese snacks and desserts which you can purchase at a very reasonable cost. Still wondering what to do in Queenstown?
6. Indulge in everybody's favorite pastime – Shopping
With an array of shopping malls available, you will find it hard to choose one. But the Anchorpoint mall stands out which houses several outlets with top and trending brands and designer wear. All the shops in the Anchorpint have a sale all day every day. With amazing discounted prices available, you will find it hard to resist not to indulge in. Some of the outlet stores here include G2000, Typo, Charles and Keith, Pedro, and Billabong. Don't be surprised if you get a really good deal.
7. Explore the ancient colonial architectural marvel at Wessex Estate
This Wessex Estate is home to black and white colonial houses near Portsdown road surrounded by lush green environments. This picturesque neighborhood is perfect to relax and enjoy a stroll in the evening before heading to the Colbar, which was once a canteen during the British colonial rule. Go back into time as you browse through vintage photographs and décor while you enjoy a dinner. The black and white colonial houses were built in the 1940s and were used by the British officers and soldiers who were yet to be commissioned. Most of these houses have been occupied as either residences or artists who use it as a studio space.
---
---