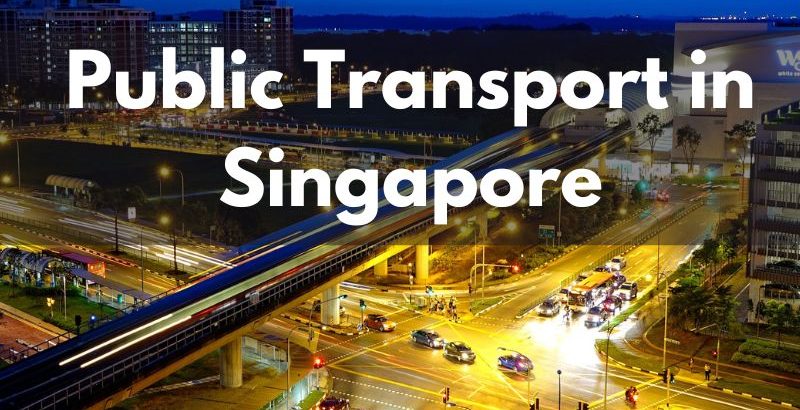 Transportation Guide for Getting Around Singapore
Are you planning a trip to Singapore? Then, while you are busy planning a travel itinerary in Singapore, looking into hotel accommodations, preparing for the Singapore tourist visa application process, and booking flights, don't forget about figuring out how to get around once you've arrived. Despite being a small but extremely modern country with a land area of only 730 square kilometres, Singapore is one of the world's tiniest countries, so its public transportation system and infrastructure are extensive, efficient, well-maintained, and regular. It has a spectacular transportation infrastructure network that provides convenient and affordable public transportation for getting around the city-state country. Public transport is readily available in Singapore, so getting around can be easy without having to rely on private transportation on your travel holiday. Use this guide to learn everything you need to know about using the bus, train, and other modes of public transport in Singapore.
Bus Transport
The extensive bus service in Singapore is clean and efficient, reaching nearly every corner of the island and even running to and from regions in Malaysia. Almost all public transportation buses and bus stations are wheelchair accessible, and are equipped with facilities to assist visually impaired commuters. SBS Transit and SMRT are the two main public bus operators in Singapore. On Fridays, Saturdays, and the eve of public holidays, SMRT operates late-night bus services between the city and various suburbs from 11.30 p.m. to 4.35 a.m. Go-Ahead Singapore and Tower Transit Singapore are two other operators that provide efficient bus services in Singapore. The distance travelled from one point to another determines the fare. A standard bus trip of up to 4 kilometres costs around 99 cents on the card and 170 cents in cash. The charge then increases by about 10 cents every 1 kilometre. The bus services in Singapore accept EZ-Link cards. These are pre-paid cards that make cash payments far more convenient. If you want to pay in cash, you must provide the exact fare because there is no facility to offer change if you provide more than the exact fare.
Mass Rapid Transport
Singapore's Mass Rapid Transit (MRT) metro system is the most convenient and fastest way to get around. The system has over 140 stations, six different lines, and trains that run every 3 to 5 minutes, seamlessly and punctually connecting the island-state nation. The trains run from 5.30 a.m. to midnight. The fare is roughly the same as standard bus charges, which are 99 cents for the first 4 kilometres and then 10 cents for each additional kilometre charged to the card.
Taxi
In addition, Singapore has a sizable taxi fleet that can be used for door-to-door transportation or to go places that buses and trains cannot reach. The majority of taxis are privately owned, but they are subject to the Land Transport Authority of Singapore, which regulates and supervises their services and fares. These taxis can be booked via phone or app, or simply by waving your hand in the air.
When hailing a taxi, keep in mind that taxis will not stop near bus station lanes or on specific roads such as Finlayson Green, High Street, Orchard Link, or Esplanade Drive. Look for a designated taxi stand to hail a cab or book one through an app. The fares are calculated based on the length of your journey. In Singapore, a standard taxi would charge a flag-down fare of about SGD 4 and then 25 cents for every 400 km covered up to 1 kilometre and then 25 cents for every 350 km. Peak times and late-night rides would be more expensive.
Bicycle and Trishaw
Singapore is a small island country where one can explore the nearby districts by bicycle. Though the roads can be quite congested, Singapore has built a network of 525 kilometres of cycling paths and infrastructure to allow locals and visitors to enjoy the destination at their own pace. You can also rent foldable bicycles that can be easily transported in public buses!
Singapore's three-wheeled bicycle taxis or trishaws, which were once popular modes of transportation, are no longer widely available. However, Trishaw Uncle – Singapore's only licensed trishaw tour operator – offers rides through charming neighbourhoods with novelty rides. Both of these modes of transportation are ideal for taking in the scenic views of Singapore at your own pace.
Insider's Tip
It is best to purchase a Singapore Tourist Pass, which allows you to load money onto an electronic card and use it for a set period of time on unlimited rides on Singapore's public buses, MRT and LRT trains. A one-day pass costs about SGD 20 per person and is valid for adults and children over the height of 0.9 metres. You will receive an SGD 10 refund if you return the card within five days of purchase after using it.
Conclusion
This article will definitely be helpful travel guide for your first time visit in Singapore, especially if you want to figure about the public transportation system in the city.
Singapore is a favourite among travellers because it is a city that appreciates a good mix of modern and natural scenery. But it is also popular because it has a hassle-free and convenient public transportation network that is punctual, clean, and unquestionably one of the most professional and safe transportation systems in Asia.
The public transportation in Singapore is also quite affordable and frequent which makes it a favourite for budget-conscious travellers to Singapore. Those who do not want to break the bank by hiring a private car or a tourist bus can enjoy Singapore freely at low costs and first-rate facilities thanks to the city-wide public transportation system. Give public transportation a try the next time you are in Singapore; you will be glad you did!
---
---