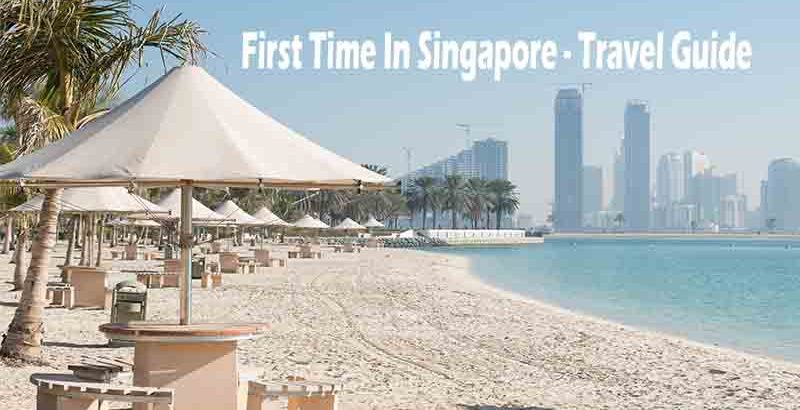 Complete Travel Guide for Your First Time in Singapore 2023
So, you have locked your sight on Singapore for your next leisure vacation. Good choice! Having decided to visit Singapore, it is important to know what to do and where to go so you can make your trip a memorable one. This island nation at the edge of the Malaysian Peninsula offers a treasure trove of cultural, natural, and modern experiences. Hence, when you check out what there is to do in Singapore, you might be tempted to do it all in one go. That can be quite overwhelming. Take things slow and follow the guidelines in this travel guide that will make your first time in Singapore enjoyable and easy.
Singapore at a glance
Singapore sits on the southern tip of the Malaysian Peninsula; the nation is separated from Malaysia by the Johor Strait. Singapore is known as an island-state nation and has the distinction of being one of the smallest countries to visit in the world. In actuality, it is one of three city-states of the world, along with Vatican City and Monaco. Although Singapore is perceived as just one island, it also consists of 62 tiny islands scattered around its mainland. This destination is known for its disciplined, clean, and orderly nature, and has a fascinating mix of diverse ethnicities. Additionally, the country takes pride in incorporating natural elements into its urban lifestyle. As you spend your first few days in Singapore, you will witness these marvels in small doses based on the duration of your stay.
Top attractions to include on your first Singapore visit
Usually, the distinction between natural and modern sceneries is blurred in Singapore. In one moment, you are gazing at a stunning piece of modern architecture, in another, you are surrounded by lush green foliage as if it appeared out of nowhere! Gardens by the Bay is one such attraction that can catch you off guard while you are enjoying the modern splendour of Marina Bay. You will definitely feel a sense of calm and peace as you walk through the giant vertical gardens called Supertrees along with indoor rainforest-themed gardens like Flower Dome and Cloud Forest. This place is also home to the tallest artificial waterfall in the world.
This is a place where fun, adventure, and thrills never stop! You can enjoy a fun day out with friends and family at Sentosa Island, which has attractions such as Universal Studios Singapore, SEA Aquarium, and Adventure Cove Water Park. There is a wide range of activities to choose from, such as Segway, cable car and Luge rides, indoor skydiving or just unwinding on the serene beaches of Sentosa.
The Jewel – Changi Airport
One prominent example of Singapore's ability to meld nature and modernity is the Jewel at Changi airport. The Jewel consists of an artificial waterfall nestled inside Changi Airport. It is surrounded by terraces with indoor trails that mimic the forest environment of a tropical rainforest. This is a place that is totally worth your time and money.
Mandai Wildlife Reserve and Singapore Botanic Gardens
Singapore takes wildlife and wilderness quite seriously. Mandai Wildlife Reserve and Singapore Botanical Gardens serve as pioneering examples of this passion. At Singapore Botanical Garden, you can walk into a fragrant setting filled with countless blooms. A UNESCO World Heritage Site, this garden has been around for more than a century and features the largest orchid collection in the world. The Mandai Reserve on the other hand is home to 3 exquisite wildlife experiences namely Singapore Zoo, Night Safari Singapore, Jurong Bird Park, and River Wonder Singapore. These attractions offer an exceptional perspective on rare and endangered animal life and birdlife. A Singapore vacation itinerary that includes even one of these will be an unforgettable experience.
Little India, China Town, and Peranakan cultural sights
Tourists characterize Singapore as 'Asia in a nutshell' since one can experience almost every Asian culture here. Throughout Singapore city, there are many alleys and lanes where you can find a taste of ethnic Asian life, two of the most popular being Little India and China Town. There are plenty of things to do in Chinatown and Little India. These are the places where you can explore Hindu temples and Chinese shrines, immerse yourself in the cultural fervor and enigmatic hues, and savor aromatic, flavorsome Indian curries and Chinese dumplings. Throughout Joo Chiat and Katong districts, you will encounter Peranakan culture, a unique fusion of Malay, Indonesian, and Chinese origins. Some of the best things to do in Little India and Chinatown will give you the chance to enjoy the diverse flavors of art, food, and architecture of Singapore.
Best time to visit Singapore
Travel to Singapore is possible all year round. The country has a tropical rainforest climate – hot, humid weather with occasional showers. If you plan to visit, you should always carry an umbrella. December, January, March, April, May, June, and July are the best months to visit. However, due to peak and shoulder seasons, airfares and other travel services are on the more expensive side during these months. Singapore also hosts several world-famous events, such as the Formula 1 Grand Prix. In general, it is best to stay away from such events unless you are a fan.
Things to consider while planning your Singapore trip
Singapore is a clean city, and the locals diligently follow the rules to keep the country that way. The visitors are also expected to demonstrate the same degree of integrity and adapt to the law. In the event of an offense, the penalty for violating the law can be hefty. Residents typically carry their trash with them until they find a dustbin where they can dispose of it. It is illegal to chew gum in Singapore, and even jaywalking is punishable.
Observe the locals and you will quickly become accustomed to Singapore. Consider staying in low-cost hotels or homestays, eating at local restaurants, and using the public transport system if you are on a tight budget. Singapore has one of the finest and most efficient public transportation networks in the world. Using them as your first travel priority to get around in Singapore can cut down expenses in a huge way.
English is widely spoken in Singapore. Nevertheless, it would also be beneficial to know a few phrases of Singlish, which is a version of Singaporean English.
Get a valid Singapore visa on time. Singapore visas are often cited as one of the obstacles to Singapore travel planning. If you are visiting Singapore for a leisure visit, you should apply for a Singapore tourist visa well in advance of your departure to avoid delays and disappointments. You should also ensure that you have travel and medical insurance for the duration of your Singapore trip.
Conclusion:
As a first time traveler to Singapore, you will realize that are a huge number of attractions. While many of them require an entry ticket, there are also several free things to do in Singapore. Hence, a trip to Singapore is a must if you are planning a trip to Southeast Asia. The city-state of Singapore blends modern life with culture and traditions beautifully. It is a great opportunity to explore the city and learn about things you did not know about Singapore.