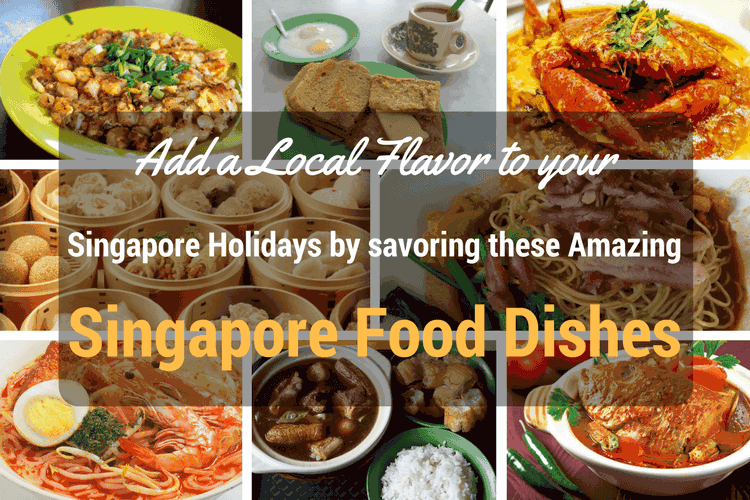 Add a Local Flavor to Your Singapore Holidays by savoring these Amazing Singapore Food Dishes
Singapore can be considered as a gastronomical capital of Southeast Asia, with a very diverse population giving rise to a diverse culture and cuisine. The Singapore cuisine has rich influences from origins of Chinese, Indian, Malaysian, and Indonesian cultures. Some of Singapore famous foods are spread all across the city, either in street food hawker centers or in food courts of shopping complexes or in fine-dining restaurants. We have listed some of the multi-cuisine dishes which you must definitely try during your trip to Singapore. These dishes are true to the rich heritage of Singapore and are definitely not listed in the order of significance. As a tourist, this list can help you shortlist places and know where to eat in Singapore and what to eat in Singapore.
1. Bak Kut Teh
Popularly known as the Pork bone tea. The Bak Kut The was a result of an experimentation and has a history dating back to the days when Singapore was still a developing country. One of the simple and humble dishes consumed in Singapore, the Bak Kut The comes with several pepper varieties with light use of herbs such as Star Anise. Another variant to try out is the Klang Bak Kut Teh, a dark flavored herbal soup which has origins from Malaysia. The Keppel road, Beach road, and New Bridge road give you a shot at some of the best prepared Bak Kut The found in Singapore.
2. Wanton Mee
This dish has high influences from the Hong Kong cuisine. The Singapore wanton noodles are drier and are mixed with sweet sauce, slices of pork char siew, along with wanton dumplings stuffed with pork and served with a small bowl of soup. There are two versions of this dish: Chili version and the non-spicy version. The chili version has an additional component of chili being mixed with the noodles, whereas the non-spicy version has tomato sauce mixed in. Check out counters or restaurants at Joo Chiat Place, Jalan Besar, and Bencoolen street to find the best Wanton Mee in town.
3. Dim Sum
Dim Sum in Singapore is a set of small dishes which is generally served as a combo. It has rich influences from the Hong Kong/Shang Hai type of dishes. Some of the popular variants include the BBQ Pork Bun, Chee Chong Fun, Siew Mai, and Xiao Long. The best dim sum stalls are found in Jalan Besar, ERA center, and Sims Ave.
---
---
4. Laksa
Laksa has origins from its Chinese and Malay elements, mixed together to form the Peranakan culture. The dish is usually served in two variants – Asam Laksa and Curry Laksa. Curry Laksa is predominately served in Singapore, whereas the Asam Laksa is served more in Malaysia. The Curry Laksa is prepared using coconut milk, vermicelli, fish slices, tau pok, and optional shrimp and cockles for taste. Another innovative variant known as Katong Laksa has short cut vermicelli and is consumed only using a spoon. The best Laksa stalls in Singapore are found at East Coast Road, Jalan Berseh, and Queensway Shopping Center.
5. Curry Fish Head
With South Indian origins, the Curry Fish Head has strong influences from several ethnicities in Singapore. The fish used for this preparation is generally Red snaper which is stewed in curry with a mix of assorted vegetables like brinjal and lady finger. The Indian version of the Curry Fish Head has extensive uses of spices and local flavors whereas the Chinese version uses lighter and sweeter ingredients. The best curry fish headstalls in Singapore are found in Tai Thong Crescent, Beach road, First Cooked Food Point, Upper Bukit Timah road, and Dempsey Road.
6. Singapore Crabs
There are two popular variants in which crabs are served at food counters. It is either with black pepper sauce or with a sweet and spicy tomato chili sauce. The crabs are boiled and then fried so that the meat doesn't stick to its shells. The chili version of the crabs is served with fried mantou that are drenched in chili sauce. There are several innovations in the recent past to the dish like crab bee hoon and salted egg crabs. The best Singapore crab stalls are found in Prinsep street, Geylang, East Coast Parkway, Yio Chu Kang Road, and Casuarina Road.
---
---
7. Kaya Toast and Soft-boiled eggs
This is a traditional Singapore style breakfast. The Kaya toast is a traditional rectangular white loaf of bread which is toasted with a bread grill and lathered with coconut or egg kaya. It is then topped with SCS butter which slowly settles down on the warm bread. There are many variants which are available across the streets. The eggs are boiled for around 10 minutes and seasoned with pepper and dark/light soya sauce for flavor. Places where you will find the best Kaya toast stalls are Killiney road, East coast road, Upper Pickering street, and China street.
8. Fried Carrot Cake
Made with preserved radish, white radish flour cake, and eggs, the fried carrot cake is one of the popular Singapore dishes consumed by tourists from all around the globe. The popularity of this dish has extended into the borders of Malaysia also. There are many variants which are served, one of the popular ones include the black version where sweet sauce is added and the crispy version where the cake is fried on top of a beaten egg to create a crust and chunks of cake. Some of the popular centers where you will find the best-fried carrot cake are Chomp Chomp food center, Redhill food center, Market and food center, and Bukit Timah market and food center.
A visa to a foreign citizen residing in UAE has been a barrier in many cases. Get the right partner to guide you all along the entire visa processes. Our travel experts have several decades of experience of handling even the most complicated visa cases with ease. We ensure that we bring sufficient transparent and simplicity in our processes which would give our customers the best of Singapore food and Singapore holidays. Contact our travel experts to know how to get Singapore visa in UAE and enjoy a wonderful time in Singapore.
---
---