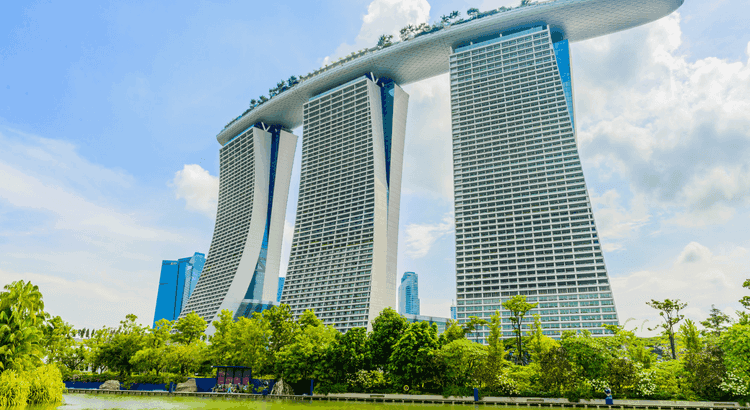 Bask in the Romantic Ambiance of the Best Honeymoon Destinations in Singapore
The garden city or the lion city is one marvelous destination of man-made and natural attractions, sights and sound. It houses several beaches, museums, and boasts of an awesome collection of sci-fi architecture, contemporary art, stunning new hotels, retail joyride, and billion-dollar gardens. There are many honeymoon destinations in Singapore which give you a mix of awesomeness and privacy at the same time. Visit the Singapore tourist attractions together and enjoy a romantic ambiance in this wonderful Island city.
Singapore offers a vibrant and colorful destination which is visited by tourists and visitors all around the world. With an exciting honeymoon package and a trusted partner, you get to taste the romantic side of Singapore. With our Singapore holiday tour packages, we ensure that our customers have the best honeymoon that would complement their splendid marriage celebrations. Singapore of late has become one of the popular honeymoon destinations in the world. Below listed are some of the best honeymoon places in Singapore which you should visit with your precious one.
1.Marina Bay Sands
Marina Bay Sands offers a tantalizing romantic atmosphere for couples and is one of the most popular tourist attraction for both locals and tourists alike. A romantic stroll by the Marina Bay Sands is sufficient as you enjoy the captivating laser light show that is a spectacular display of water jets, fire geysers, lasers, etc. Post the show head to the KU DE TA Club Lounge and enjoy a stunning 360 view of the city atop of the Marine Bay Sands along with a glass of champagne. We assure you that post sunset, you are going to hit the next level of romance.
---
---
This is definitely on top of the list and there is a reason why. Changi Point is extremely popular for its coastal walk which offers mesmerizing views of the grand sea, boats, and offshore kelong platforms. Get fascinated by the hilltop chalets, lush green environment, and heritage trees, and much more. The sunset is stunning and is the best when enjoyed with your precious one.
3.Gardens by the Bay
A popular honeymoon destination in Singapore, the Gardens by the Bay offers a lush green environment that is blessed with man-made state-of-the-art gardens. Check out the natural and exotic plants placed under the dazzling energy and water-conserving Supertrees and man-made mountain biome. You will feel the romance in the air as you browse through this destination.
4.Beaches of Sentosa
Think Singapore and honeymoon together, then the beaches of Sentosa is surely on top of your list of honeymoon destinations in Singapore. Popular for its pristine beaches, extreme sea sports and retreats. You can enjoy a chilled out atmosphere as you visit the white sand bars with your beloved one. Stroll for a nature walk at the Butterfly Park and the Insect Kingdom or sweat it out at a game of beach volleyball on the Siloso beach. Other popular attractions here include the luxurious Spa Botanica where you can Spa together post a hectic day of sightseeing and adventurous activities.
---
---
5.Bukit Batok Town Park
One of the popular Singapore attractions designed for couples. It offers several click moments for your celebrations and has been a regular feature in wedding photography. Xiao Guilin is home to a captivating landscape coupled with equally stunning views. A romantic browse through this scenic forest with the picturesque tranquil lake hand-in-hand with your partner would definitely be one of the best romantic strolls you would have had.
6.Singapore River
A visit to Singapore is incomplete with cruising along the Clarke Quay to check out the historic elements of Singapore. While browsing through these elements, you get to see the gorgeous Marina Bay Sands, the Merlion, and other popular landmarks. Post sunset, enjoy a breezy and secluded atmosphere with your partner as you witness the spectacular light show.
7.The Ritz-Carlton, Millennia
If you are looking for an exotic and luxurious honeymoon stay in Singapore. Look no further beyond the Ritz-Carlton, Millennia. It carries a class, elegance, and charm of its own – it is just one of its kind. Offering stunning views of the Singapore skyline and the Marina Bay, the Ritz-Carlton is also home to an awesome collection of modern and contemporary art by several renowned artists such as Andy Warhol, Frank Stella, and Dale Chihuly. Enjoy the stunning views while soaking in 'the Second Honeymoon Dip' which is drawn by the Ritz bath butler exclusively for you and your partner.
8.Botanic Gardens
This lush green environment is home to virgin rainforests and is a wonderful start to the new beginning in your life. Enjoy fresh air all through the day. Visit the National Orchid Garden and check out the awesome collection of over 2000 orchids. Post the visit, head straight to the Corner House restaurant and enjoy yummy delicious international cuisines. You simply can't ask for anything more.
---
---
9.St. John's Island
The tranquil settings and the blue lagoons offer a perfect romantic ambiance for couples. A 15-minute ride from the city will take you to the outskirts of this wonderful Island. The Island is home to lush green gardens and splendid trees. A romantic picnic is one the cards as you move away from the shackles of the busy city and if you get lucky, you can even spot and play with the dolphin population here.
10.Jewel Box
People say if you have not visited the Jewel Box, then probably your honeymoon is incomplete. The Mount Faber is a natural tourist attraction in Singapore where you would be in awe seeing the mesmerizing views of the entire city including the harbor. Get cozy with your partner as you enjoy the cable car ride to the park or simply spend a romantic dinner with your sweetheart at the Jewel Box as you shuttle over the beautiful city. Give a new twist to romance as you get cozy mid-air.
---
---
Singapore offers spectacular honeymoon destinations for couples, and this list indicates just some of these amazing destinations. We offer a complete package to give you the best honeymoon experience with your loved one. An exotic nightlife, amazing cuisine, charming temples, an array of skyscrapers, adventurous water sports – we have it all covered. Get in touch with our travel experts and enjoy this unique romantic getaway called Singapore.