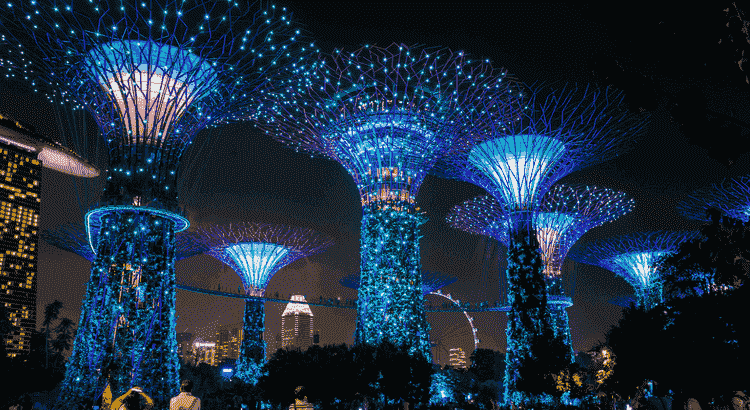 Best Romantic Places in Singapore for Couples (2023)
Singapore is one of the favorite holiday destinations in Southeast Asia. However, it is not the first place that comes to mind when one thinks of romantic places. Singapore is mostly seen as a family-friendly destination. However, not many know that there are several romantic things to do here for honeymooners and couples looking forward to a romantic holiday. If you want to enjoy a memorable holiday with your partner, the first thing to do is get a Singapore visa and then plan all the romantic things that you would want to do in this amazing city-state.
Enjoy a Picnic at Gardens by the Bay
Try some old-school romance by taking your beloved to a fun picnic at Gardens by the Bay. Spanning across 250 acres, the Gardens by the Bay is a natural haven right in the middle of the urban city. Home to several conservatories, huge metal plants covered with 200 species of plants and flowers, and a customized mountain-climate green houses, it is a true delight to explore this garden. To enjoy a romantic evening with your partner, plan a picnic at Gardens by the Bay. Sit on a mat, watch the sun go down, and admire the natural beauty around you. You can get snacks and drinks from the restaurants and cafes inside Gardens by the Bay to complete your picnic.
Have Dinner on Singapore Flyer
A cozy dinner at a luxurious restaurant is considered to be the most romantic thing for a date night. So why not take it a notch higher by arranging a dinner for you and your partner high up in the sky? We are talking about the Singapore Flyer, the giant Ferris Wheel, which is also the tallest observation wheel in Asia. It takes 1 hour for the Singapore Flyer to take a rotation, during which you would be able to enjoy a 4-course meal consisting of appetizer, soup, main course (chicken, fish, or soup), and dessert, served along with wine. While dining on this delicious food, you would get the chance to enjoy a bird's eye view of the entire city and even Sentosa Island and parts of Indonesia and Malaysia, if the skies are clear.
---
---
Stay at Marina Bay Sands
Marina Bay Sands is one of the most luxurious hotels in Singapore, and it would be delightful to stay in one of its rooms during your romantic holiday in the city. Each of the 2561 rooms offers comfort, luxury, and a great view of the city. You would also get to enjoy some entertaining performances and events here during the stay. Do explore the ArtScience Museum here, where you would find several opportunities to take some amazing photographs. There is also an observation deck here, which would give you a panoramic view of Singapore. However, the highlight of the place is the infinity pool, located at the rooftop of the hotel. Watching the sunset while lounging in the pool with your beloved would be one of the best romantic things to do in Singapore.
Go on a River Safari
Surely your romantic holiday in Singapore cannot be only about romantic strolls and dinners. To make your holiday more adventurous, head to Singapore's River Safari, a river-themed zoo and aquarium. A river boat takes you around the different exhibits, which are home to 6000 animals that include 40 threatened species. The zones that you would find here are Amazon Flooded Forest, Giant Panda Forest, Ganges River, Congo River, Mary River, Nile River, River Gems, etc. Here, you would be able to see animals like pandas, jaguar, monkeys, maned wolf, giant river otter, Indian gharial, green anaconda, etc. The place also has a huge aquarium, where you would be able to see huge manatees, Mekong giant catfish, etc. swimming around you.
---
---
Visit the Sentosa Island
Your romantic trip to Singapore cannot be complete without a visit to Sentosa Island. A little away from the main island of Singapore, Sentosa is all about fun, adventure, and entertainment. The place has three beaches, where you can not only relax but also indulge in some water sports like standup paddle boarding and kayaking. Some other adventurous activities that you would find here include bungee jumping and ziplining. A cable car ride here would not only give you an aerial view of the island but also of Singapore. Apart from these, there are several more attractions to see on Sentosa Island, some of which include the Butterfly Park, S.E.A Aquarium, Universal Studios, etc.
Stroll around the Botanic Gardens
Romance and nature go hand-in-hand, and you would find plenty of both at the Singapore Botanic Gardens. The 160-year old garden is a UNESCO World Heritage Site and is home to a variety of plants and flowers. The crowning glory of the place is the National Orchid Garden, where you would find more than 2000 orchid hybrids. While it is a great place to have a picnic with your beloved, you can also go on a Walking Trail to explore the garden. Apart from this, you would also find guided walks every Saturday here. You must also visit the SBG Heritage Museum, where you would get to know all about the history of this garden.
Cruise on the Singapore River
Another romantic way to spend an evening in Singapore is going on a boat cruise on Singapore River. The best time would be at dusk, as you would get the chance to see a beautiful sunset along with the amazing sites of the city. Relax in a traditional Bumboats, which were used for commercial reasons during the 17th century. Take in the popular attractions of the city while the boat sails along the Aviation Civilization Museum, Marina Bay Sands, the Merlion Park, Clarke Quay, Boat Quay, etc. Going on a cruise on the Singapore River is the most romantic and leisurely way of sightseeing in Singapore.
Go on a Culinary Tour
If you are a couple who loves food, then Singapore would definitely be a culinary delight for you. The city is renowned for everything from fine dining restaurants to street food. You can try different types of cuisines here, including Malay, Chinese, Indian, and Eurasian. While there are several fine dining restaurants that you should try in Singapore, the hawker streets are not something that you should miss here. If you really want to try the street food of Singapore, you must visit the night street market in Chinatown. The Indian restaurants at Little India also offer a culinary treat. You could also join one of the food tours that are available in Singapore, to experience the essence of Singapore's culinary world.
So you see, there are plenty of romantic things to do in Singapore. Right from cruising along the Singapore River to enjoying an aerial view of the city on the Singapore Flyer, the city offers you an array of options to spend some romantic and memorable time with your partner.
---
---