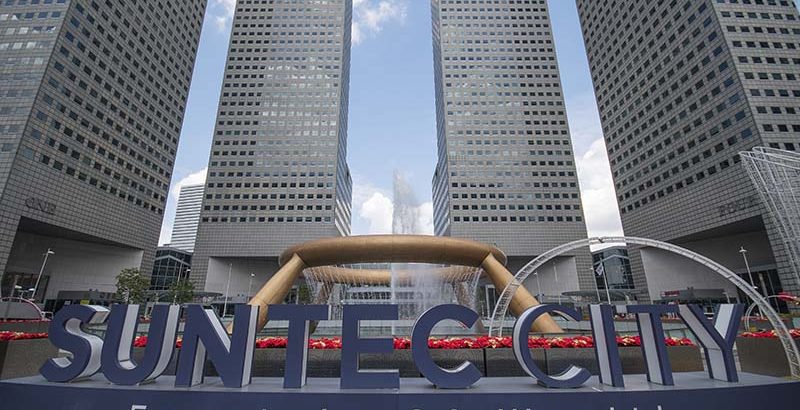 Experience Your Luck at Fountain of Wealth, Suntec City Singapore
While Singapore entices you with its many modern and natural charms, the destination has mastered to exude a sense of tranquillity in the midst of chaos through its creative installations. The Fountain of Wealth is one such attraction. Counted among one of the largest and most picturesque fountains in the world, the Fountain of Wealth is a landmark attraction one should not miss while visiting Singapore. Here's a brief overview of one of the best water fountains of Singapore.
About Fountain of Wealth
The Fountain of the Wealth Singapore is the largest water fountain in the country. Located in the heart of Suntec City, near the shopping mall, the fountain is a mesmerizing sight to watch.
This colossal fountain comprises of a massive bronze ring with a diameter of 66 metres that is supported by four angled columns and suspended at a height of 13.8 metres. Elements from Hindu and Chinese cultures are embedded in the design. The water fountain's principles are based on feng shui, while the outer ring depicts the Hindu Mandala form, which represents unity in spirit.
Water jets burst from the ring and cascade inwards, symbolising wealth retention. In feng shui, the element of water denotes life and prosperity, and the inward flow of water signifies wealth coming in, illustrating abundance in wealth. Overall, the fountain was built to foster wealth and success, as well as religious harmony.
The base of the fountain does not pool with water, as the water drains and falls underground into the main basement of the Suntec City restaurant. However, there is a miniature fountain in the centre of the attraction, and the surrounding floor surface is speckled with several mini jets of water gushing out. Locals believe that circling the fountain three times while touching the water can boost the positive energy known as 'qi' in their soul, mind, and body and grant them any wish they desire. As a result, the fountain also provides daily water touching sessions between 10 a.m. and 7.30 p.m.
The Fountain of Wealth, which was built in 1995, was listed in the Guinness Book of World Records in 1998 as the largest water fountain in the world. It has captivated both visitors and Singaporeans since its unveiling and has become a prominent centrepiece of Singapore's modern architecture. Suntec City Fountain of Wealth sits in the middle of towering skyscrapers and is absolutely free of cost to visit any day you want!
Getting There
Fountain of Wealth is located at 3 Temasek Boulevard in Suntec City, Singapore.
Suntec City can be reached via MTR. The three closest MTR stations are Esplanade MRT Station (3 minutes away), Promenade MRT Station (5 minutes away), and City Hall MRT Station (10 minutes away).
By Bus – Several public buses make a stop at Suntec City.
The following are some of the buses you can take to Suntec City – 36, 70M, 70A, 106, 700A, 857, NRI, 97, 97A, 502, 502A, 502B, 518, 551, 578, 581, 577, 580, 575, 576, 579, 111, 133, 133A, 162M, 518, 518A.
By Car or Taxi – if you are planning to drive yourself or take a taxi, the road route is straightforward to follow in Singapore as the country labels and puts proper signage everywhere so that it is hard to miss the directions. When you are arriving in a taxi, you can alight at the driveway of the Convention Centre on Level 1. If you wish to take a taxi back to your hotel, then there is a taxi stand just next to H&M. If you are driving on your own, the following routes are recommended based on where you are staying in Singapore:
– Changi Airport: via East Coast Parkway – Rochor Road – Temasek Blvd
– Little India: via Serangoon Road – Kerbau Road – Dickson Road – Jln Besar – Ophir Road – Republic Blvd – Nicoll Highway.
– China Town: via Maxwell Road – Robinson Road – Esplanade Dr – Raffles Blvd – Temasek Blvd
– Orchard Road: via Orchard Road – Bras Basah Rd – Raffles Blvd – Temasek Blvd
---
---
Timings and Entry fees
Fountain of wealth Singapore timings is daily from 8.30 am to 10.00 pm. The Fountain also hosts water touching sessions which are from 10.00 am to 12.00 pm, 2.00 pm to 4.00 pm, and 6.00 pm to 7:30 pm. The Fountain of Wealth light show begins after twilight and features a magnificent spectacle of laser lights, music, and a water show. Visitors on average spend close to an hour at this attraction. The busiest times to visit are on public holidays and weekends, and the crowds normally gather around the fountain at 6 p.m.
Combine this Singapore attraction with a Singapore Duck tour which takes you on a one-of-a-kind road trip and water cruise to view some of the most popular attractions around the Marina Bay area and beyond.