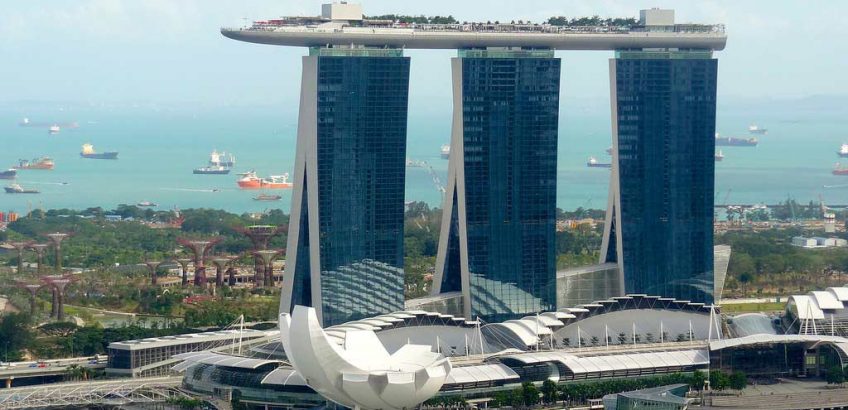 Discover the Best Casinos in Singapore
Singapore is obviously a well-known holiday destination for all genres of travellers. The tiny country seems really petite but packs a punch when it comes to tourist attractions. You will find some of the best modern buildings, best nature parks, best amusement parks, and best beaches in Singapore. The city is one of the prominent destinations for fun and entertainment and even offers you a chance to see if lady luck favours you. Singapore is one of the Asian destinations where you can gamble legally and there are two main casinos that have come up in recent years. Interested to try your luck on a Singapore holiday? Check out these best casinos in Singapore on your Singapore trip.

1. Marina Bay Sands Casino – Marina Bay Sands Singapore
The Marina Bay Sands Singapore has turned Singapore's luxury quotient a notch up. It also serves as a stunning sight to marvel for tourists. The illuminated grandeur of three soaring towers and its boat-shaped terrace has become an iconic view to remember for all those who have visited Singapore. Inside this grand resort, you get to experience the best of luxury accommodations, recreational and fine dining venues. The resort also has a stunning casino sprawling 4 levels with a large gaming floor consisting over 1000 tables and 2400 slot machines. The Marina Bay Sands Casino is said to be one of the most expensive standalone casino property in the world that offers a range of games to play and win and also have the best staff to guide you for the games. The slot machines also offer a range of electronic gaming machines with video betting and multi-station games such as Roulette, Jackpot and Baccarat. The Marina Bay Sands Casino also has a separate, exclusive gaming and dining areas reserved for high-end clients and premium players. Visitors can also enjoy complimentary non-alcoholic beverages at the gaming table and slot machines and also savour Asian cuisines at three noodle bars located within the casino.
---
---
2. Resorts World Casino – Resorts World Sentosa Singapore

Another world class entertainment arena in Singapore is the Resorts World Sentosa. This integrated resort located at Sentosa Island is home to six world-class hotels, South Asia's first Universal Studios Singapore, a water park, a mind-blowing aquarium and one of the two trendy casinos in Singapore. Sprawling 15,000 square meters, Resort World Casino offers a luxurious arena to try your luck at a range of table, electronic and slot games. Located at Crockfords Tower Hotel, just 10 minutes' away from Singapore's Central Business District, Resort World Casino takes your gambling and gaming experience a notch up with games and types of equipment made by world's leading gaming experts. Some of the popular slot games you can play are 'Back to the Future' and 'Alien vs. Predator'. There are more than 500 different types of games you can play here.  There are also numerous dining and entertainment options available here. The dining options offer a variety of Asian culinary delights in classy restaurants and cafes. Right from Japanese, Chinese to Vietnamese and local Singaporean delights, you can delve on an amazing collection of scrumptious cuisines. This extravagant casino cum gaming zone is just a tiny part of Resort World Sentosa. Spending a day or two at Resort World Sentosa will give you a gist of all the thrill and fun this attraction beholds.
3. Singapore Casino Cruises

In addition to Singapore's resort casinos, Singapore also offers guests casino cruises to enjoy gambling fun as well as revel in the ocean breeze and spend time onboard a lavish ship amid live entertainment and epicurean delights. Cruises such as Leisure World Cruises and Aegean Paradise Cruises offer world class facilities along with spacious gaming areas. These cruises are more popular among Singapore citizens as locals need to pay a gambling levy of $100 if they want to enjoy these games at resorts in Singapore. Since these fees are not levied on Singapore Casino Cruises, locals find it cheaper and a better option to fulfill their interests. Singapore Casino Cruises are an ideal way to combine Singapore tours with other neighbouring countries as well. You can enjoy your day soaking up the sun, relishing an assortment of cuisines and explore new places when the cruise docks. Evenings are packed with grand entertainment onboard and you can spend your time trying your luck at making money at the casino. There are options available for evening trips and overnight stays in private cabins. These Singapore Casino Cruises depart from Nongsapura Ferry Terminal which is 45 minutes away from Tanah Mera Ferry Terminal.
While there aren't many choices available for casino experiences in Singapore, a visit to any one of these casinos won't leave you disappointed. The casino scenes in Singapore are strictly controlled and aren't as popular and rave as the scenarios in Las Vegas or Macao. However, these chic casinos do make sure that you can have a good time and makes sure that you find Singapore as a perfect place to stay and play! Even if you aren't keen on gambling fun, Singapore offers a plethora of activities to keep you entertained. There won't be a single dull moment on your Singapore trips; even if you run out of luck at casinos, you will never run out of fun and entertainment here in Singapore.
---
---