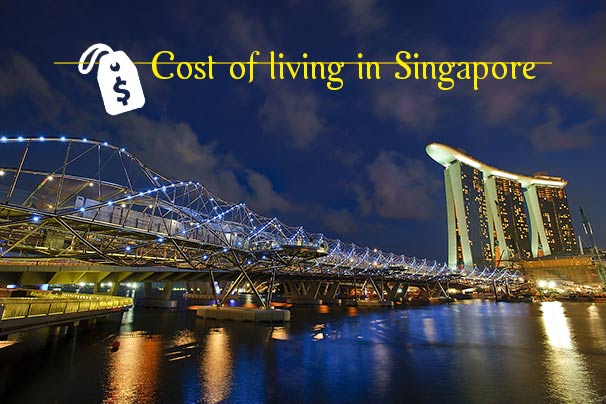 Understanding the Cost of Living in Singapore (2023Guide)
Towering skyscrapers, state-of-the-art infrastructure, lush green gardens and happy citizens – This is the amazing Singapore. This city nation is considered as one of the best countries to live in. Singapore has topped many polls, and has been named by many independent agencies as one of the best countries in the world. Thousands of people visit this country each year, and end up falling in love. Singapore has been consistently name as the "easiest place to set up a business in". This has given rise to a number of people making this country their home.
Living in Singapore is easy, but just like any other place, there are pros and cons. However, the pros outweigh the cons by a lot and therefore, many people move to this country to have a successful life.
1.Housing Costs
Housing is expensive but there are a lot of options available. Most natives have a home, but expats have to rent. Singapore is a real estate hub. At any given time, there are multiple residential projects underway close to the main city. Owing to the scarcity of land, most constructions are high-rises, but they have ample amenities to make life more comfortable. The Housing Development Board each year releases listing on rental homes. The homes that are further away from the city center are quite affordable. Plus, the public transport system is efficient and affordable.
Also, if you are thinking of hiring help to manage household chores, you can research and compare online. Wage rates vary according to the type of work and the area you live in.
2.Transportation
Transportation systems of a country have a huge impact on the cost of living for its citizens. It's no different in the case of Singapore. Public transport systems here are affordable and quite efficient. The country has a well-laid wide network of roads. The railway system is rapidly developing, and will soon connect all regions across this island-nation. The bus and taxi services are quite reliable and affordable. However, having your own car is an expensive affair. You have to pay high custom duties, insurance fees and taxes. You also need to pay for the Certificate of Entitlement. Therefore, you are better off using the public transport systems.
3.Food
Singaporean street food is world renowned. It is delicious and quite affordable. It is an amalgamation of various cultures like Indian, Chinese, Malaysian and Western. Therefore, you have a wide choice of foods you can have daily. Cooking at home can be a little expensive as groceries are expensive. However, you tackle this problem by doing grocery shopping online. There are many supermarkets that sell groceries online at much reasonable rates. They home deliver so you also save money on transportation expenses.
---
---
4.Lifestyle
Singapore is one of the most popular tourist destinations in the world. It is also an international business hub, so it sees a lot of young professionals who come for business tours. Therefore, the lifestyle and leisure scenario is quite developed. There are many wonderful attractions and fun activities to indulge in over the weekend. Also, there are many social gatherings and forums where you can meet and interact with like-minded people. However, a night out drinking can burn a huge hole in your pockets. Alcohol is heavily taxed, and the spirit enthusiasts have to shell out quite a bit. Entry fee, alcohol, and food in good clubs and lounges are premium priced. However, you can always research and track down good deals to enjoy.
5.Culture
Singapore is a cultural melting pot. After independence from the British, Singapore mostly comprised of migrant laborers from nearby countries. Native Singaporeans were few in numbers. This resulted in the country accepting many different religions and cultures. Therefore, you'll find many people belonging to different religions and races, living in harmony.
[Check Out : Common Etiquettes In Singapore]
6.Healthcare
The healthcare system is highly subsidized, making it affordable for all. Even people who are not citizens of the country can avail good healthcare when in need. There are also good insurance companies that provide access to private doctors and treatment centers.
7.School
If you are planning on settling down with your family, should take a close look at the schooling systems. Public schools are good and affordable. The quality of education is also good, which also includes extracurricular activities. However, if you are an expat, then the fees will be a little higher for you. Private school cost a bomb. They cost thousands of dollars. Plus, there are long waitlists. Public schools are a better option.
Singapore is a dream country to live in. If you have the right qualifications and experience, finding a decent paying job is not difficult. In fact, you can also start your business here as there are many pro business laws. Also, the country is quite safe and secure. Crime rates are really low, and laws regarding drug use are very strict. Therefore, if you are looking at Singapore as a permanent residence, do give it a serious thought. It is one of the best countries in the world, and is constantly getting better.