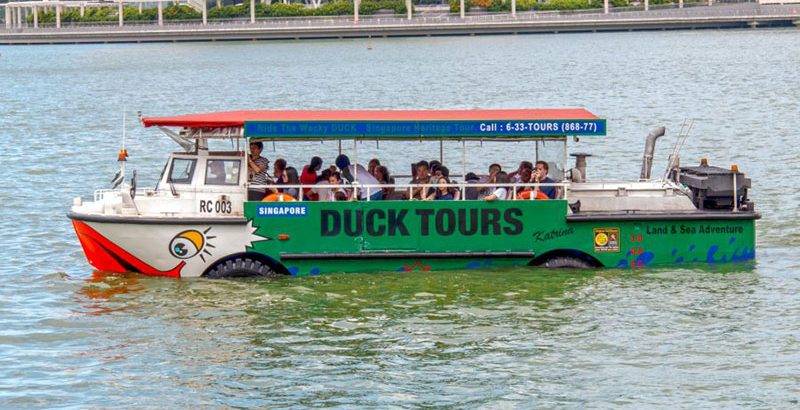 Duck Tour Singapore – Experience Singapore by The Land and Sea Both
For leisure travellers, Singapore is regarded as one of the best tropical vacation destinations in South Asia. With state-of-the-art architecture, diverse Asian ethnicity, extravagant theme parks, and gracious verdant gardens and nature parks, this destination offers something for everyone. Being an island-state country, there are plenty of ways to explore the nation – on land and by water. Then again, wouldn't it be great if you could enjoy unrivalled views of the destination from both land and water during a single tour? One such unique tour is the Singapore Duck Tour, which lets you discover Singapore from both on land and off the coast.
Get introduced to Singapore Duck Tour
When you get your Singapore tourist visa and plan your itinerary, make sure you include a one-of-a-kind experience. Enjoy a Singapore Duck tour, which is a great way to see both the sights on land and the sights from the water when you visit Singapore! You can sit back and relax in an amphibious vehicle used in the Vietnam war, which was refurbished and repurposed to be able to shuttle guests from land to sea. Singapore Duck Tours is a unique and one of its kind tour that takes you on a ride around the city and then splashes into the waters and cruises around so that you can enjoy the harbour views and climbs back again on land and continues the rest of the journey. This is a joyride you won't want to miss! Bring your kids and loved ones along.
Singapore Duck Tour Route
The Singapore Duck Tour begins and ends at Tourist Hub @ Suntec. Once everyone has been seated, the Duck tour begins by driving to Marina Bay and splashing into the water for a serene cruise. In fact, it is one of the most fun things to do at Marina Bay, Singapore. As you glide across the surface of the water, you will see Marina Bay Sands' contemporary tower, the gorgeous Super Trees and Gardens By the Bay, the Fountain of Wealth, the Esplanade Theatre, and many such architectural marvels including the majestic Singapore Flyer. Merlion Park, the famous Singapore attraction, is also a part of this tour.
Then, get back on land and enjoy a scenic tour of the city that includes the Civic District, Supreme Court, Singapore Cricket Club, Cenotaph War Memorial, and Victoria Theatre before you conclude your tour at the Suntec City.
With a live commentary onboard, you get to learn about Singapore and experience some of the most popular sights this destination has to offer in just 60 minutes.
Singapore Duck Tour tickets – how to book?
The Singapore Duck Tour is a very popular tour that is loved by locals and tourists alike. To avoid last-minute disappointment, we recommend you book a ticket in advance. It is very easy to book tickets for the tour online or through a tour operator who will assist you with your Singapore visa, tickets, and itinerary. Simply show your e-receipt at Suntec and collect your pass 30 minutes before your tour.
Tour duration
Duck Tour Singapore duration is about an hour long. As you enjoy the land and water experiences during this 60-minute tour, you will also be able to see stunning harbour views, city panoramas, and landmark attractions in Singapore.
Singapore Duck Tour Ticket Price
Duck Tour Singapore price is approximately SGD 48 per person. Children under 2 years of age will be charged SGD 13 per child. The prices are inclusive of taxes. The tickets can be rescheduled if you give an intimation one working day before your tour is scheduled to operate. However, the guarantee to get the next tour totally depends on the seating availability. Unused tickets will not be refunded, and no-shows without prior notice will not be rescheduled.
Singapore Duck Tour: When does it operate?
Duck tours operating hours are every hour between 10.00 am and 6.00 pm on Monday to Friday, but may not be operating during Chinese New Year or other national holidays. Check their website for updates on operational days and times. On Singapore Duck Tour, the weather does not affect operations until and unless it is severe and makes a tour impossible. Despite Singapore's rain and drizzle, the tour continues smoothly.
Tips for visitors
There is only one starting point and one ending point for the tour. A minimum of 30 minutes prior to the start of the tour, visitors are asked to check in at the DUCK & HIPPO Hub at #01-330, Suntec Shopping Mall.
Considering the tour is an outdoor experience, it is recommended that you wear loose, airy clothing and carry water, sunglasses, and a hat. Singapore is prone to sudden drizzles, so carry an umbrella as well.
There is a limited number of seats available for the tour, so it is recommended that you book in advance.
The tour is not accessible to wheelchair users and no wheelchairs or other similar seating arrangements are available. As the tour pace is designed to accommodate young visitors, infants and toddlers are welcome to join. In fact, Duck Tours Singapore is one of the most kid-friendly experiences to enjoy during a Singapore holiday.
Make sure you keep an eye on your valuables and prioritize safety. Please remain seated during the tour and refrain from leaning out the window or putting your hands or legs outside.
Conclusion
Singapore Duck Tour is the best way to view the Singapore attractions and skyline from afar the shores and on the land. We recommend you to try this experience on your next Singapore visit.