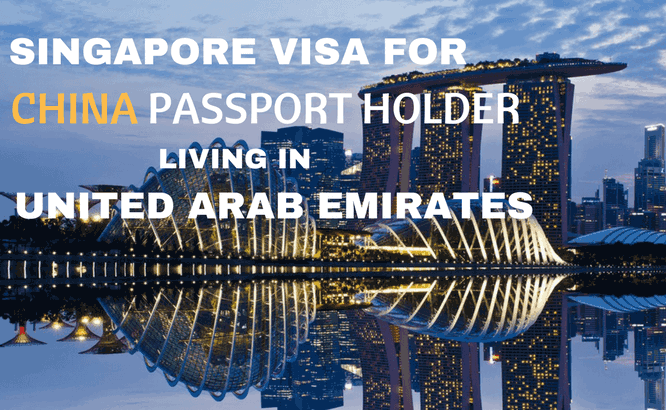 Visa information of Singapore for China Passport Holder Living in United Arab Emirates
Singapore has categorized China as a Level I country. Therefore, it is easy for Chinese nationals living in the kingdom of United Arab Emirates to obtain a Singapore visa of less than or up to 30 days. The following information will act as a guide for Chinese passport holders for applying for a Singapore visa. The foremost thing to do is download the form. Get a good print of the form and fill it up correctly.
There are not many documents that are required Only a few like:-
1. Your Chinese Passport
Since you are living in a foreign country, please make sure your passport is up to date till six months from the day you will be landing in Singapore. Obtain a good, high resolution photocopy of your passport.
2. Recent Colour Photograph
Though it is not a document, you will still need one 2X2 inches photograph that has not been used on any other visa application. The photo has to be taken against a white background with a clearly visible face. Religious headgear is permitted as long as it is not covering the face.
---
---
3. Proof of Legal Status
Since you are residing in a foreign country (UAE), and intend to travel to Singapore from there, you have to provide proof that you are legally present in UAE. If you have a dual citizenship, you can give photocopies give of your official documents. If not, you can submit photocopies of documents like work visas, work permits, etc.
4. Permission Letter
If you are employed in UAE, provide a letter from your employer on their official letterhead. The letter should state your name, position, duration of the leave and their permission, along with an assurance of your return to your job. If you are self-employed, then you can submit photocopies of your business registration or tax returns. If you are retired, provide your retirement fund/pension fund documents' photocopies.
If you are a student, your school or college will have to provide a letter stating that you are student in good standing, and that you will be joining the next semester.
5 . Travel Plans
A photocopy of your itinerary, or return flights are to be provided. If you are going to be staying in a hotel, then you also have to provide photocopies of the hotel bookings. Your name must be clearly visible on all the said documents.
 If you've filled the application in Chinese (Mandarin or Cantonese), you have to attach official translations of your language.
All the mentioned documents must be attested as 'True Copies'. Also, there's a non-refundable fee that you have to pay with your application. You can make an inquiry online at www.singaporevisa.ae, or any other appointed Singaporean authority via our visa specialists head or branch office in UAE. For Level I countries, the visa processing time is 3-5 working days. Therefore, you'll know the results soon. Make sure that you submit all the documents mentioned above, as a missing or wrong document can become one of the reasons for visa rejection of Singapore.
---